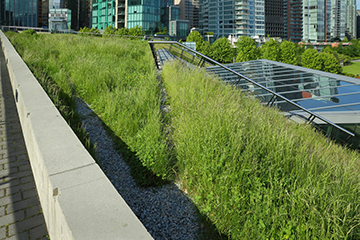 When you think of green roofing, what comes to mind? You might imagine eco-friendly materials and the like. But today's green roofing goes a step farther, actually incorporating plant life into soil placed on top of your commercial structure. Businesses that choose this type of roofing enjoy a number of benefits that range from making a positive environmental impact to a more aesthetically pleasing building. Interested in the many benefits of green roofing? Contact McDonald & Wetle to learn more.
Environmental Benefits
Making a commitment to greener practices is becoming more and more common for many businesses. It's a great way to put your company's values to work and show the community you're committed to a healthier environment. The environmental benefits of green roofing include:
Urban Heat Mitigation: Conventional roofs can get hot during the day and increase the temperature of the surrounding air. In dense urban areas, the collective power of green roofing can reduce citywide temperatures by up to five degrees.
Improve Air Quality: Think of your green roof as an extra-large air filter. Its vegetation will help neutralize pollutants and absorb carbon dioxide while pumping fresh oxygen into the air. Additionally, the roof's cooling benefits will help reduce reliance on air conditioning, resulting in fewer related emissions.
Increased Plant and Wildlife Habitats: When you install a green roof, you're also installing an environment for surrounding species to call home. Green roofs can increase biodiversity and provide valuable resources for wildlife.
Economic Benefits
For many business owners, helping the environment is enough to make green roofs attractive. But green roofing benefits extend to your bottom line as well, and often provide:
Increased Energy Efficiency: Green roofs create an insulating layer for your building, meaning heat and cold are less likely to escape, reducing energy costs.
Increased Property Value: When you invest in green roofing, you're making a serious property upgrade. Because green roofs are aesthetically pleasing, environmentally friendly and cost-effective, they're very attractive to potential buyers.
Increased Roof Lifespan: While there are many reliable roofing options, green roofing can last for up to 50 years. This extended longevity helps reduce repair and replacement costs for savings over time.
Storm Water Management: Green roofs absorb storm water at a faster rate and reduce damage from run-off and flooding, saving you money.
Learn More about Green Roofing Benefits
If you're ready to take advantage of all green roofing has to offer, McDonald & Wetle offers the products and service you require. Contact our Seattle or Portland location for additional information about green roofs and our other commercial roofing services.