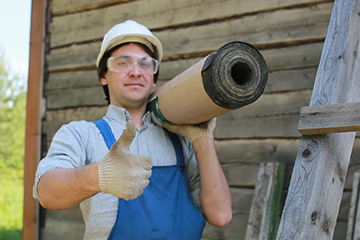 Commercial and industrial property owners have specific concerns that go beyond the needs of residential homeowners. That's why McDonald & Wetle offers a number of quality commercial roofing solutions, including modified built-up roofing. And with nearly 100 years spent serving the Pacific Northwest's businesses, we offer the experience and quality products necessary to install, maintain and repair your modified built-up roof.
What is Modified Built-Up Roofing?
Created with multiple strong layers to form a thick membrane, modified built-up roofing offers great durability for your flat roof. Unlike other built-up roofing, modified built-up roofing combines asphalt with polymers to create a rugged bitumen. Installation may begin with an underlayment that lies beneath the bitumen, although this depends on your building's unique needs.
Technicians will then apply bitumen in layers with reinforcing fabric to create a weathertight design. There are a number of installation methods, including the use of torches, hot mopping and self-adhesive styles. No matter which process is most appropriate, the roofing installers will create a tough membrane that offers years of use.
Why Choose Modified Built-Up Roofing?
Your building's roof is the first line of defense against the elements, which is especially important for structures in the Pacific Northwest facing extensive rain and snow. Thanks to its rugged bitumen, powerful adhesives and carefully sealed seams, modified built-up roofing helps keep moisture out to protect your property's frame and interior.
With proper installation and maintenance, a modified built-up roof can last up to 20 years, even in the face of harsh conditions like hail. And thanks to a fire-resistant design, you'll enjoy added peace of mind and a safer facility.
Your modified built-up roof can also help reduce energy costs. Special coatings allow these roofs to reflect the sun's rays, directing excess heat away from your building. The roof can also perform as an insulator, keeping warmed air inside during the winter and heat out during the summer. Overall, these roofs allow you to maintain a more comfortable environment and see savings with each utility bill.
Choose Modified Built-Up Roofing
McDonald & Wetle is the go-to source for high-quality commercial and industrial roofing services throughout the Seattle and Portland metro areas. Contact us today to learn more about modified built-up roofing, additional commercial roof materials and our maintenance and repair offerings.