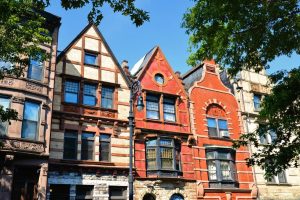 Maintain the authentic appearance of your historic building with the historic roofing installation service from McDonald & Wetle. We offer commercial and industrial roofing solutions, and we understand that the roof plays an important role in the functionality and the visual style of your building.
In addition to roofing materials traditionally used on historic buildings, at McDonald & Wetle, we also offer eco-friendly and solar roofing options that may be suitable for your roofing project. Our professional staff is available to discuss your options, and our portfolio of historic roofing projects is available online so that you can browse through pictures of some of our past work.
Asphalt Or Composition Shingles For Sloped Roofs
It's common for retail buildings, restaurants and historic churches to have sloped roofs, and asphalt or composition shingles are often used on these structures. These shingles are known for being budget-friendly, and the variety of colors offered makes it easy to find the ideal shade to complement most historic buildings. This type of shingle is typically installed on any roof with a pitch over 3-in-12. The term 3-in-12 pitch refers to a roof that rises three inches per foot of horizontal run.
Clay Tiles For Sloped Roofs
Clay tiles come in several distinct styles and colors to complement different architectural styles, such as Mediterranean and Spanish. A slope of 4-in-12 or greater is required for this style of roofing solution, and the structure must have enough load-bearing capacity to support the weight of these clay tiles.
When you contact us at McDonald & Wetle to discuss your clay tile roofing needs, one of our professionals will provide more information and thoroughly assess your historic building, so we can best recommend the ideal roofing solution for your structure. Your satisfaction is important to us, so we want to make sure you know about all of your roofing options.
Natural Slate Tiles For Sloped Roofs
Natural slate tiles are typically the highest-priced roofing solution offered by McDonald & Wetle because they last the longest. Like clay tiles, natural slate tiles are ideal for roofs that have a slope of 4-in-12 or greater and enough load-bearing capacity to support the heavy slate tiles. Slate tiles are used on buildings that have historical significance and on high-end commercial structures.
Built-Up Roof Systems For Flat Roofs
Built-up roof systems, which are also known as BUR systems, are typically installed on industrial buildings. BUR systems work best on buildings with roofs that are flat or that have low-slopes. The slope for a BUR system should be no greater than a 3-in-12 pitch.
Single-Ply Roof Systems For Flat Roofs
Single-ply roof systems are known for being budget-friendly and durable. When this type of roof system is installed, building owners typically choose one of three common applications, which include membranes constructed from either:
EPDM (ethylene propylene diene monomer)
PVC (polyvinyl chloride)
TPO (thermoplastic polyolefin)
We also offer sheet metal roofing – a highly durable and resistant material which holds up well to most weather conditions. It is also fire resistant, and can last up to three times longer than an asphalt shingle roof, requiring little or no maintenance.
Contact Us For Historic Roofing Installation
Historical significance is the most likely to be a factor with sloped roofs, but there may also be times when it's key in restoring a flat-roofed building. Whether your roof is flat or sloped, at McDonald & Wetle, we have the expertise and experience needed to restore the roof on your historic building.
Speak with one of our roofing professionals about our historic roof installation service by calling our Seattle office at 253-589-8999 or our Portland office at 503-667-0175 today.