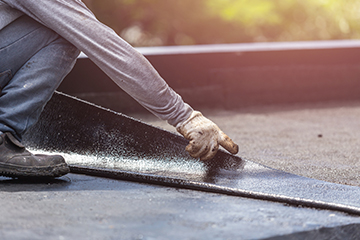 If it's time to replace the roof of your commercial building, it can be difficult to know where to start. At McDonald & Wetle, we offer single-ply roofing among our commercial and industrial installations, as this type of material boasts many benefits compared to traditional shingles. With decades of experience in commercial and industrial roofing, our team of highly trained technicians can help you take advantage of all single-ply roofing has to offer.
Prevent Damage from the Elements
Since life in the Pacific Northwest involves a lot of rainfall, we urge our commercial and industrial clients to consider single-ply roofing to avoid water damage. Composed of flexible synthetic rubber or polymers, the roofing is applied in layers with limited seams, creating a smooth surface that allows:
Easy rainwater and snow runoff
Resistance to hail, debris from windstorms and the growth of moss and algae
Increased UV protection
Protection against acid rain conditions and chemical materials
And more…
Single-ply roofing also provides an insulating layer between your building and the outdoor environment. This helps prevent heat loss during the winter and overheating during the summer, so you're able to keep your facility at a more comfortable temperature without constantly raising and lowering the thermostat – or increasing your utility bills.
Ease of Installation
A lightweight product, single-ply roofing is ideal for quick, efficient installation. Single-ply sheets are typically mechanically attached to the roof, or in some instances an adhesive can be used. It all depends on the type of underlayment on the roof and the angle of its slope. With many options available, McDonald & Wetle is able to completely customize a solution for individual commercial structures. No two single-ply roofs are the same, but they all offer considerable benefits. And once your roof has been installed, we'll provide any necessary maintenance and repairs to ensure continued performance throughout the years.
Learn More about Single-Ply Roofing
Is single-ply roofing the best choice for your property? Contact McDonald & Wetle today in Portland and Seattle for more information. Thanks to nearly 100 years of service to commercial and industrial roofing clients, we offer the expertise and customer service needed to make your next roofing project a success.