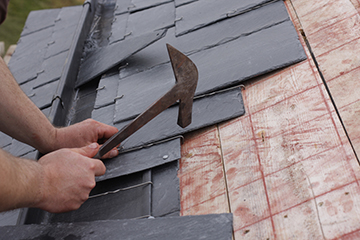 Whether you're seeking a sophisticated finish for a retail location or a rugged roofing material that will stand the test of time, slate and tile roofing provide ideal choices. If you're interested in learning more about the benefits of clay and slate roof tiles, contact McDonald & Wetle for additional information about installation and an estimate for your commercial property.
Long Lasting Design
Slate and clay roof tiles, when installed correctly, are designed to last a lifetime. While clay roofing tiles offer anywhere from 75 to 100 years of reliable performance, slate lasts even longer – sometimes up to 150 years. This rugged durability allows both types of roofing to stay strong in the face of the elements, high winds and other extreme challenges that might damage alternative materials.
Classic Style
These tough roofing materials are as beautiful as they are strong. In fact, upgrading a building with clay or slate roof tiles can boost property value and lend your commercial structure a sophisticated appearance. Natural slate offers many color and style choices that look great as they age, often forming a stylish patina over time. Clay tiles, on the other hand, are extremely versatile and create a striking natural look.
Additional Benefits
As utility costs rise, it's important for businesses to find ways to lower their energy use. Slate and tile roofing offer a simple way to do so thanks to a naturally insulating design that helps prevent the transfer of heat to keep your facility comfortable all year round. And because these materials are naturally occurring and don't produce pollutants during their manufacturing process, they're a great choice for the environment as well.
Clay and slate roof tiles are also highly fire resistant, giving you an added level of protection. And with a design that guards against pest infiltration, you won't have to worry about critters making their way inside to cause damage.
Outfit Your Building with Clay or Slate Roof Tiles
With so many benefits, it's easy to see why area businesses have chosen slate and tile roofing over the years. If you're interested in updating your commercial building, contact McDonald & Wetle in Portland or Seattle to learn more about roofing materials and our expert installation, maintenance and repair services.