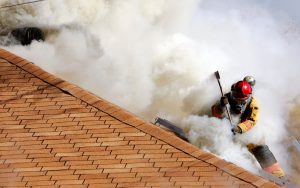 Just like any industry, roofing trends are subject to change depending on the needs of the consumer. Due to several factors, McDonald & Wetle is seeing the demand for fire-resistant roofing become a priority. For many business owners, an ideal solution to this need is composition roofing. Here, we explain what makes composition roofing an ideal choice for fire protection.
Rated by the National Fire Protection Association
When comparing your fire-resistant roofing options, be sure to first look for National Fire Protection Association (NFPA) ratings, which classify the susceptibility to ignition for roof materials. The system includes four fire coverage ratings – Class A, B, C, or unrated – with Class A providing the best performance. Asphalt composition roofing is a Class A-rated roofing material, providing building owners peace of mind that these shingles are recognized by a reputable source to resist fire.
Durable, Flame-Resistant Construction
By design, composition roofing shingles are inherently fire-resistant. Constructed from fiberglass, asphalt, and ceramic granules, they are specifically designed to keep flames from spreading. Due to their sturdiness, composition shingles hold together under flame better than some other styles of roofing. This means the shingle won't break into pieces that may generate more embers and contribute to the spreading of a fire. Additionally, Class A-rated composition shingles resist the following kinds of damage:
Cracking
Warping
Breaking
Sliding off
By resisting these kinds of breakdown, composition roofing provides a strong defense, helping to prevent flames from reaching your structure's roof deck.
Budget-Conscious Fire Protection
For businesses on a tight budget, composition roofing is the most economical choice of fire-resistant roofing. While some other styles offer similar protection, they also have a higher price tag and more complex installation process, equating to more time and money spent on the project. In contrast, composition roofing offers a more economical way to protect your facility from the threat of fire damage with more affordable materials and simpler installation.
Further Reduce Your Roof's Vulnerability to Fire
Choosing a fire-resistant material like composition roofing for your structure is a great first defense against ignition and subsequent damage. However, it's not all that must be done, as there are additional steps to take to ensure the safety of your roof – especially in fire-prone areas. These include:
Conduct Regular Roof Inspections
Knowing the landscape of your facility's roof can better help you notice things that may make your structure more susceptible to fire.
Remove Debris and Clutter from Your Roof and Gutters
Wind-blown debris like leaves and even pine needles can accumulate on roofs and gutters and act as kindling to a fire. Removing debris from these areas can help avoid the ignition of a fire.
Inspect Exposed Areas
Gaps between the covering and the roof deck are common, depending on the style of your roof. These openings allow birds and rodents to build nests with materials that are easily ignited by embers. Plugging these openings is crucial to future protection against fire.
Learn More about the Fire-Resistant Qualities of Composition Roofing
If you're on the hunt to replace your facility's roof and looking for a fire-resistant option, the experienced professionals at McDonald & Wetle can help you find the right solution. Serving our customers' roofing needs for nearly 100 years, we're confident we can secure the kind of coverage that best suits your business. Contact us today at our offices in Seattle or Portland for more information.