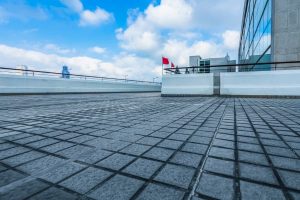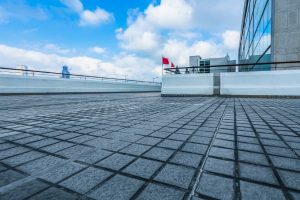 Flat roofs or nearly flat roofs are common choices for commercial buildings and medical facilities with wide roof spans. Flat roofs offer a few advantages for businesses as opposed to traditional sloped roofs often seen on residential construction.
Cost
A big reason why flat roofs are installed on industrial buildings is the lower cost. Flat roofs generally cost less than sloped roofs to install so that companies can keep construction expenses down. They cost less because there's less surface area and they're much easier to install since workers can walk safely across its surface.
HVAC Considerations
Another reason many commercial buildings have flat roofs is air conditioning unit placement. If a roof has a low slope, it allows business owners to keep air conditioning units on the roof rather than on the ground. This configuration keeps HVAC units safe from damage and vandalism and it prevents having to push cold air upwards, which can often take a lot of energy. Instead, cool air from the AC unit flows naturally downward.
Maintenance Is Easier
When a commercial roof needs a repair, it's easier for workers to go up on a flat roof and walk around compared to needing a harness or other safety equipment to make a repair on a sloped roof. A flat roof may also make it easier to spot leaks or other areas that need repair.
Flat Is A Misnomer
Although commercial building's roofs may appear flat from the ground, they do have a slight slope, typically about 2 percent, just enough for water to flow either to the middle into a drain hole or towards the edge.
Types Of Roofing For Flat Roofs
At McDonald & Wetle, we offer numerous types of commercial roofing for flat roofs. These include:
Built-Up Roofing Systems (BURs): This type of roofing is moderately priced for our commercial customers and is an excellent choice for industrial building applications. It uses multiple layers of industrial-grade fabric, felt, or paper applied with hot asphalt or coal tar for waterproofing. Its surface is then covered with various materials, such as gravel. BURs are suitable for commercial buildings with low-slope roofs or those with a 3-in-12 pitch or less.
Modified Built-Up Roofing: Created with multiple layers of asphalt and polymers, modified built-up roofingis a great choice for creating a weathertight design on your commercial building.
Single-Ply Roofing: This option is also cost-effective and long-lasting. It usually consists of applying waterproof membranes, made of either EPDM, PVC, or TPO. They can help keep energy costs down, a favorable benefit for commercial customers, as they can reflect up to 85 percent of the sun. They also resist high winds and hail damage, important for Seattle and Portland, which frequently experience heavy rainstorms.
Experienced Commercial Roof Installer
McDonald & Wetle has been in business since 1921 providing commercial customers with expert commercial roof installations. Whether you own a historical building with a sloped roof or a bigger industrial space with a flat roof, McDonald & Wetle can assist you with every aspect of your project, from the initial selection of materials to budgeting and planning.
Contact McDonald & Wetle For Commercial Roofing Services
If you need assistance with your commercial roofing system, whether it's installation, repair, or maintenance, contact McDonald & Wetle for assistance. We have two offices, one in Seattle, WA, and the other in Portland, OR. In the Seattle metro area, you can reach us at  253-589-8999 and in the Portland metro area at 503-667-0175.