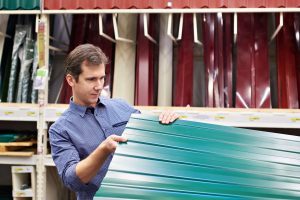 Choosing the right commercial roofing system is a critical decision for the building owner, design professional, and roofing contractor. Having the right roofing system will protect the building for decades while the wrong commercial roofing systems will lead you to costly repairs, damage of building and its content as well as a premature need to re-roof. To help you make an informed decision, here is a breakdown of the available roofing systems in the market.
Commercial roofing systems and materials are generally divided into two generic classifications;
Low Slope Roofing
Low slope roofing comprises weather proof or impermeable roof membranes installed on slopes equal or less than 14 degrees (3:12).
Principle Components
Weather-proofing layer: As the most important element, it deters water from permeating the roof assembly.
Reinforcement: Adds resistance against punctures, strength as well as dimensional stability to the membrane.
Surfacing: Protects the reinforcement and weatherproofing from weather and sunlight. Some surfacings are also capable of providing additional benefits such as fire resistance, hail resistance, solar reflectivity and improved traffic.
Classifications of Low-Slope Roof Membranes
Metal panel roof systems
Built-up roof membranes (BUR)
Single-ply membranes

Thermoset membranes e.g. EPDM
Thermoplastic membranes e.g. TPO and PVC

Polymer-modified bitumen sheet membranes
Spray polyurethane foam based (SPF) roof systems
Steep-Slope Roofing
Steep slope roofing comprises water shedding types of coverings installed on slopes higher than 14 degrees (3:12).
Principle Components
Underlayment: Provides temporary protection before installation of roof coverings well as secondary weatherproofing
Roof covering: The external water shedding material
Roof deck: A Structural substrate that is mostly a wood based material e.g. oriented strand board or plywood.
Classification of Steep Slope Roofing Membranes
Clay tile and concrete tile
Slate
Synthetic
Asphalt shingles
Metal roof systems for steep slope application
Wood shakes and wood singles
For further guidance on which of these commercial roofing systems is best suited for your project, you should consider talking to an expert. When it comes to experts in commercial roofing systems, McDonaldWetle leads the pack. Backed a century worth of knowledge and experience, we are your trusted partner in everything roofing. We offer a wide array of roofing solutions to suit your unique needs and preferences. Additionally, our experts are ready to work with you on your project as general or subcontractors from start to finish with invaluable guidance and assistance. Contact our office in Seattle Metro area or Portland Metro area to learn more.