The roofing industry offers a wide selection of green/eco roofing solutions. To adopt these solutions, you should look out for recycled material content that is reusable and long-lasting. Below are some of the most popular solutions.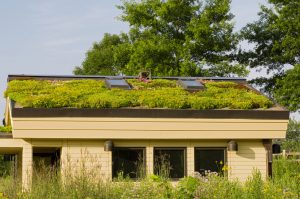 Recycled Shingles
Shingles made from recycled waste materials such as wood fiber, rubber and plastic are perhaps the greenest roofing products. They can be made from industrial or home waste, are aesthetically pleasing and also highly durable. You would never suspect that they are a product of waste materials. Recycled shingles have fire ratings and could also help you reduce your insurance rates.
Slate and Clay Tiles
As a natural material, slate makes an extremely durable roof tile that can last a century. Some come with a 100-year warranty. Although mining slate and transporting it to the market is energy intensive, use of salvaged clay and slate roof tiles is rising. Clay tiles are cheaper to produce and will last for long periods, although not as long as slate.
Roof Garden
Also known as a living roof or a green roof, this is a wonderful thing to implement despite its complexities. The downside is that they can be quite difficult to implement especially on an existing roof as they are influenced by many factors such as climate, building structure, rainfall and shape of the roof. If properly implemented, this roof system can help reduce your heating and cooling costs.
Photovoltaic (PV) Solar Systems
Solar panels are one of the greenest sources of energy. In addition to providing UV protection over your roofing material, these solar panels will enable you to harvest the suns energy that is considered to be free energy which you can use in the commercial building. Although they may demand a high initial cost, the ripple benefits will recoup the investment in several years.
To make a decision on the green/eco roofing solutions that fit your budget and roofing needs, you should consider talking to a roofing expert. Backed by a century of knowledge and experience, McDonaldWetle is your trusted partner for everything regarding roofing. To learn more, contact us today at our Seattle or Portland office to speak to one of our roofing experts.