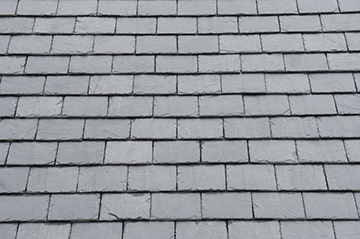 Made from natural metamorphic rocks, slate roof tiles add an elegant look to government buildings, historic churches, high-rise apartment complexes and other commercial buildings. Looking for slate roof tile installation in the Seattle, WA or Portland, OR metro area? Contact the roofing professionals at McDonald & Wetle for a quote.
The Installation Process
Every type of roofing has its own unique installation process, and slate is no different. Here are the basic steps to any slate roof tile installation:
Unlike many other roofing varieties, slate tiles must be installed one by one. Thus, the first step in the installation process typically involves drilling holes into each tile.
Next, the roofing professionals will mark the start position, so they know where to begin.
Prior to attaching the slate roof tiles, our team will install an underlayment, which serves as a water-resistant barrier.
Now, it's time to install the starter row. Because slate tiles don't expand or contract, the tiles will fit firmly next to one another. The installer will use a slate roofing hammer and nails, utilizing the predrilled holes to secure the slate tiles.
Once the first course is laid, the roofing expert will continue installing each row, staggering the tiles to establish a proper headlap. This helps create a protective barrier that seals out moisture.
To finish the job, the roofing professional may attach V-shaped ridge tiles for a polished appearance.
Expert Slate Tile Roofing Installer
With over 95 years of experience in the commercial and industrial roofing industry, McDonald & Wetle has the knowledge and expertise needed to take on any project, regardless of size or complexity. In addition to professional installations, our experts can help with roofing system selection, budgeting and maintenance planning, so you can enjoy your new roof for time to come.
Request an Estimate
Ready to get started? Contact our Portland, OR office or Seattle, WA metro area office to request a quote for your commercial slate tile installation project. We serve commercial customers throughout the Pacific Northwest.