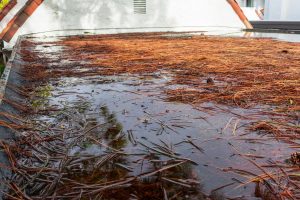 Modern commercial roofing is expertly designed to defend against the elements. However, all roofs need a bit of extra preparation and care when it comes to severe windstorms. Through nearly 100 years of service to the Seattle and Portland metro areas, McDonald & Wetle has learned how windstorm debris can affect commercial roofing. Here, we discuss how susceptible your structure may be to roof damage from debris and ways to prevent it.
Types of Windstorm Debris and Reducing Damage
For a commercial building owner or manager, dealing with some type of debris after a storm is inevitable. In addition to regular maintenance and cleaning, an easy way to reduce roof damage from debris is to assess your surroundings regularly, especially before a storm. The following kinds of debris may cause damage to your roofing, which may be prevented with proper precautions:
Structural Debris
When severe winds or serious weather events occur, one of the most common perpetrators of roof damage is structural debris to antennas, shutters, nails, masonry, shingles, and other building components. While these may seem like small factors to worry about, you'd be surprised to see the damage they can cause when being whipped around at high speeds. They can also clog drains. Debris from surrounding buildings or homes is admittedly hard to control, but you should start by removing clutter – even items as small as nails – from your facility's rooftop before a storm hits.
Tree Branches
If your building is in a heavily wooded area, fallen branches are probably the first kind of debris to come to mind. In high winds, they can cause great damage to your roof. Routine roof cleaning and maintenance can help to prevent the build-up of standard foliage and prevent wear, tear, and clogs. Assessing the surrounding trees for limbs that may need to be removed could also help reduce your chances of larger, structural damage.
Hail
Heavy hail can crack shingles, wear down protective granules, and shorten the overall lifespan of your roof. For this type of debris, the best way to prevent it is to be proactive about your roofing maintenance. This includes checking your roof regularly for signs of wear that may become more pronounced and cause deeper damage after hail, such as:
Granule loss
Shingle tears
Cracks in tiles
Prepare Your Roofing for Unexpected Windstorms with a Professional
Routine cleaning and roof examinations should give you the confidence you need to keep your commercial roof offering optimal protection through any windstorm. However, while some damage to roofing might be quite obvious, subtle kinds of damage may be more difficult to catch to the untrained eye. Before or after a storm, it's a good idea to have a commercial professional check out any possible defects and subsequent roof damage from debris. Contact McDonald & Wetle today in Seattle or Portland to see how we can help keep your building protected during windstorms and help you repair any damage afterward.